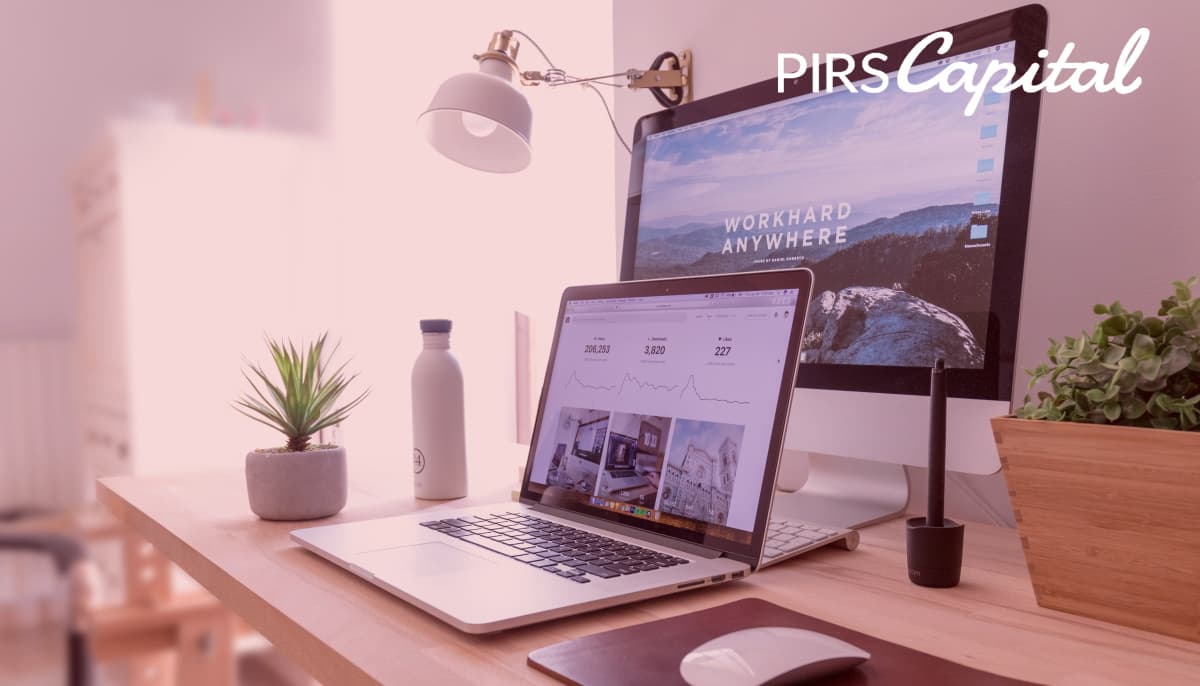 Using an Amazon Chrome extension is a way to save time, enhance your sales, rank higher on Amazon, identify secret competition keywords, and expedite the process of product research or quick product sourcing. Yes, you read that right! Downloading Amazon Chrome extensions will bring several advantages to your business.
Use these extensions to speed up your product research, obtain their ASIN number quickly, calculate your FBA revenues, and much more. In this article, we will explore the best Amazon extensions available for free (mostly) that can turn your Amazon business into a prime one.
Don't Wait, Become a Satisfied PIRS Customer Today!
Chrome's Amazon Assistant
1 Irrespective of your device's RAM and processing speed, having to open multiple tabs to find out if your product matches Amazon is a pain. Amazon Assistant's Chrome extension for Amazon sellers comes in handy for situations like this. Keep visiting retailers' websites as you normally would, but use this Chrome extension to be informed of possible product matches on Amazon while you're working!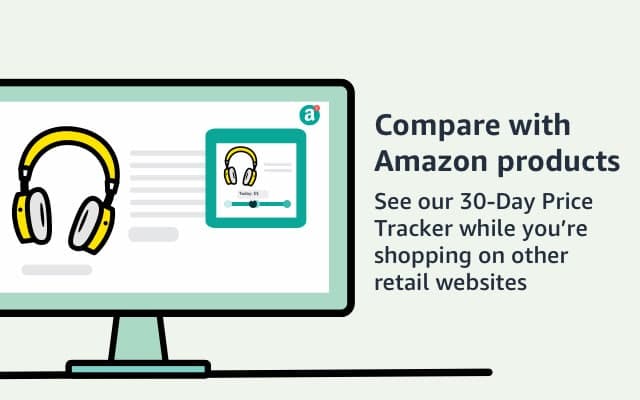 Scope – Seller Labs
2 Using this Amazon-specific FBA Chrome extension, you may find new, high-profit products and sales-boosting keywords to add to your inventory and increase your sales. Using a reverse ASIN lookup, you can keep tabs on what your competitors are selling, too. Take it a step further and analyze the potential earnings of a new product using Amazon's charge, pricing, and sales predictions. Narrow down your search for the right product, use reviews, categories, the number of sellers, star ratings, and sales rank to analyze products.
Any product or keyword's search rank performance can be easily tracked with the help of this extension; all you have to do is analyze!
Grammarly
3 Yes, this is a writing aid tool, but would you buy from a seller whose description has misspelled words and improper syntax? So why be one of them? You can use Grammarly to ensure that your material is free of grammatical or spelling mistakes. It comes in two flavors: a paid edition and a free version. The free version includes all of the fundamental functionality, such as grammar and spelling checks. There is also a commercial edition that includes additional features such as plagiarism detection and a host of other options.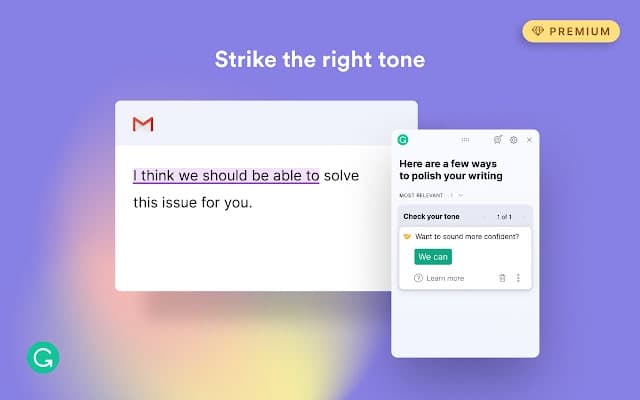 The Jungle Scout
4 Jungle Scout claims a money-back guarantee that you will find class-leading statistics for monthly sales and revenue as well as keywords, supplier databases, sales analytics, inventory management, and many other features even though they charge a fee.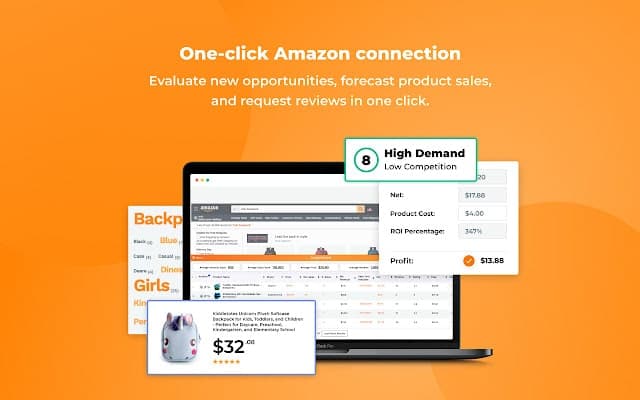 Sonar (Sellics)
5 Customer behavior and user searches are tracked and stored in the extension database for future reference. You may locate all the important keywords for your goods and add those keywords to optimize your product listing.
Profit tracking, increased traffic, and Amazon PPC campaign management are all possible with Sellics, an all-in-one piece of software. Seller Edition, Vendor Edition, and Agency Edition are all available too.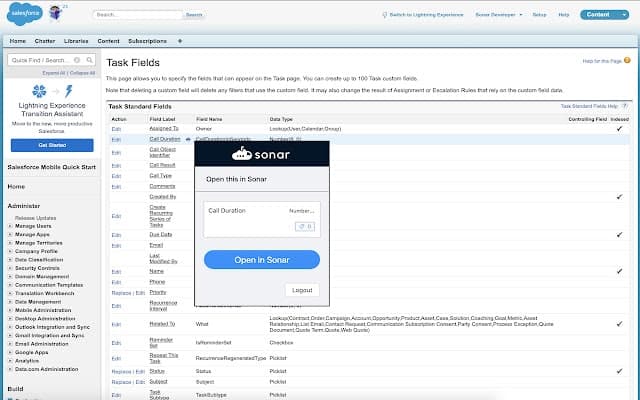 No commitment or hard credit checks, apply today!
FBA Calculator
6 There are a few products that appear to be a good fit for your selling strategy. Using the FBA Calculator Chrome Amazon extension is the final step before adding the list to your inventory. After installing the extension, all you have to do is visit any Amazon product page, click the extension button, and enter the product price, product cost, and ship to Amazon fee to receive the product's profitability.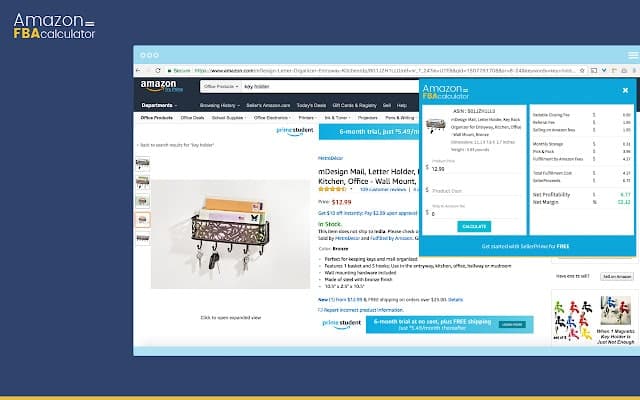 Keepa
7 How do you price your products? Are they competitive enough to keep you relevant?
Keepa monitors Amazon in multiple countries for price decreases, alerting you to them in the background with Keepa Chrome Extensions. Additionally, you can use Keepa's thorough pricing history charts to help you plan your pricing strategy and use precise data to forecast the future. Businesses that want to compete but aren't quite ready for Amazon repricer software will love this add-on.
If you find yourself short on cash due to the constant fluctuations of the pricing market, don't worry. Reach out to PIRS Capital for a quick loan for your eCommerce business.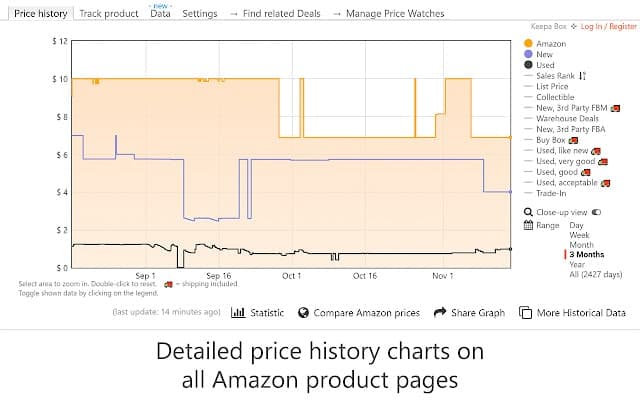 Viral Launch Market Intelligence
8 An absolute seller's best friend. Using this tool, you may learn which products are most likely to sell and which ones are the most profitable. Using monthly and yearly sales data, as well as historical trends, can help you better understand the market. You can use the built-in calculator to figure out how much money you'll make and how much you'll spend.
Viral Launch Market Intelligence comes in four different flavors, each having a month-to-month or year-to-year subscription option. Every yearly subscription option comes with a free two-month trial period.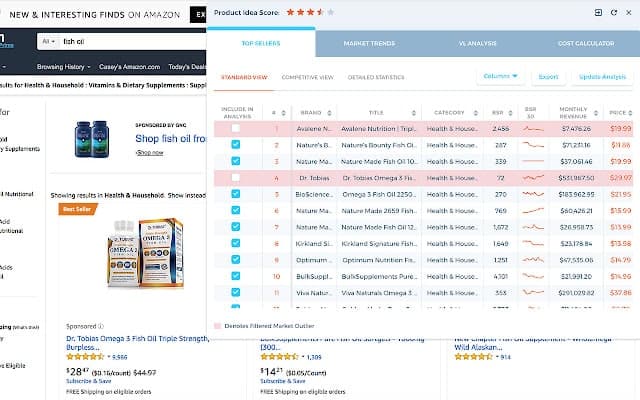 AMZScout(PRO)
9 To locate a profitable niche on Amazon, AMZScout is the tool to use. You can also find things that you can resell on Amazon for a profit but make sure you belong to one of the ten nations where you can use it.
AMZScout helps you:
Get an estimate of sales
Obtain a rough estimation of revenue.
Evaluation of listing prices
Stay updated on recent trends.
The only thing you have to do is to use an Excel spreadsheet to save your data. It's free to try over monthly, annual, or lifetime subscriptions, following a free trial.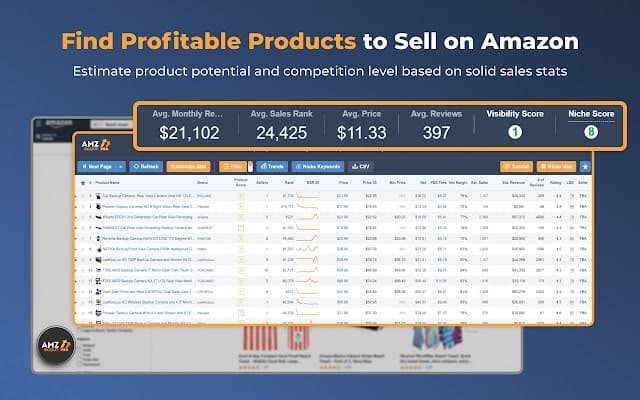 MozBar
10 Developed by Moz, a marketing analytics and inbound marketing company, MozBar is a useful tool for marketers. This tool can aid you in a way that few other sellers seem to be aware of. That is, figuring out how many links each page has on Amazon.
It's a good idea to combine this addon with normal Moz to observe which websites and media are directing their traffic away from yours. You can create search profiles and even create metrics for your search results so your analysis is more tailormade for your needs.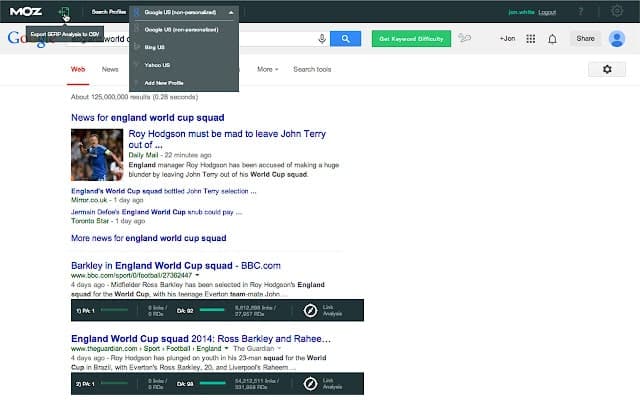 Conclusion
Selling online comes with its own set of perks and drawbacks. In 2022, Amazon extensions for Chrome are no secret; however, to find the best Amazon extensions, you will need to put your investigation skills to use. Another way to boost your Amazon business is through venture funding — if you need startup capital, reach out to PIRS Capital today!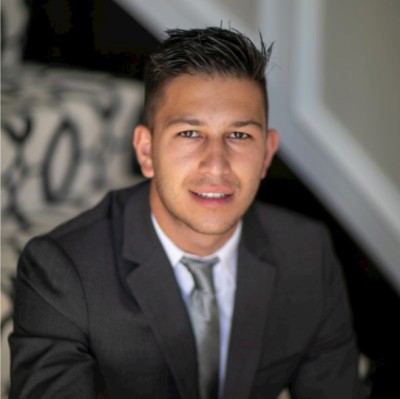 Written by: Mitchell L.
I work with companies that sell products on platforms such as Amazon, Shopify, Walmart, Ebay, Etsy, etc. I understand that every business is unique and thats why I form genuine relationships with owners so I can help them reach their goals and find success through our working capital solutions.
Ready to take control of your finance?