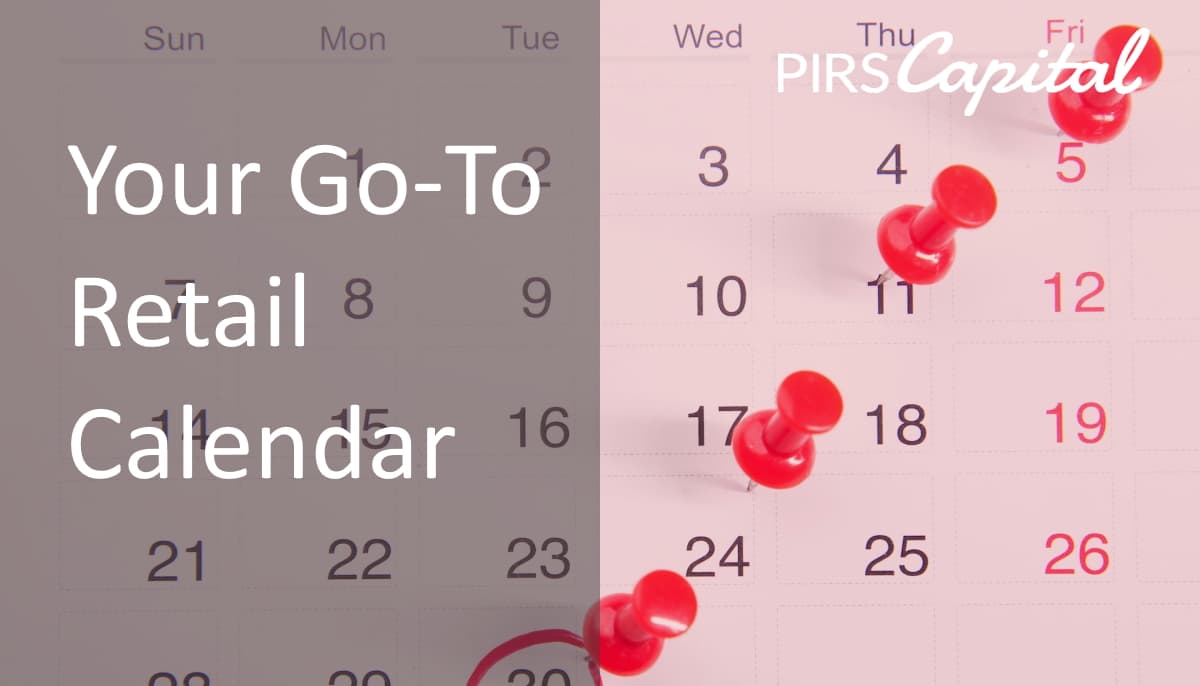 From sporting events, food days, and national holidays, every day of the year is dedicated to celebrating at least one occasion. If you appreciate themed shopping or you are a business planning for certain holidays, it can be helpful to have these dates written somewhere you can reference. However, going through a gigantic list can be time-consuming or simply anxiety-inducing. That's why we've created a shortened marketing calendar of dates you actually care about.
What's a Retail Calendar?
The traditional retail calendar breaks the year up into four- and five-week periods, either following the 4-4-5 or 4-5-4 patterns. The retail industry utilizes this pattern to break the year up into general seasons in an effort to plan ahead. Companies can also use the pattern as a sales calendar to compare retail sales to previous quarters or years. The calendar method ensures there is the same number of weekends each year which is especially important since most sales occur over the weekend.
Don't Wait, Become a Satisfied PIRS Customer Today!
How to Use a Marketing Calendar for 2022?
If you're a business owner, you can note the key dates and begin promoting sales around the events that are the most important to you.
If you shop online or through a brick-and-mortar store, you can use the retail calendar to plan your purchases throughout the year. This is especially useful if you enjoy buying presents for people in your life.
Special Days Calendar by Month
❄️ January
The first month of the year provides plenty of opportunities for shoppers to spend their Christmas or holiday money and gift cards. Post-holiday sales offer competitive prices that attract savvy shoppers and delight sellers as people are more inclined to try a new brand out.
January is a great time for the foodies and resolution makers – especially shoppers who are both. More people are excited to start on their life-changing year-long goals in January, so sellers should pay attention and provide sales that allow shoppers to achieve their targets.
Key January dates
1st January – New Year's Day
1st – 31st January – Veganuary
1st – 31st January – Dry January
1st – 31st January – Ginuary
2nd January – National Cream Puff Day
6th January – National Shortbread Day
10th January – National Houseplant Day
12th January – National Hot Tea Day
17th January – Blue Monday
22nd January – Celebration of Life Day
25th January – Burns Night
26th January – Australia Day
27th January – Chocolate Cake Day
31st January – National Hot Chocolate Day
❄️ February
Now that the bright-eyed January resolutions have passed, February shoppers consist of dreamers and lovers and people with a big, sweet tooth. Some important dates in February include Lunar New Year, Super Bowl Sunday, and Valentine's Day as key days for maximized sales.
Key February dates:
1st February – Lunar New Year
1st – 28th February – Black History Month
5th February – World Nutella Day, National Chocolate Fondue Day
9th February – National Pizza Day
11th February – International Day of Women and Girls in Science
13th February – Super Bowl Sunday
14th February – Valentine's Day
17th February – National Random Acts of Kindness Day
20th February – Love Your Pet Day
🌱 March
In some parts of the Northern Hemisphere, the days are getting noticeably longer and brighter, leaving the winter months behind. The obvious change in atmosphere is reflected in people's happier moods – why not use it to celebrate Mother's on either International Women's Day or Mother's Day and your friends on Saint Patrick's Day? We'd say those are some of the important dates in March.
Key March dates
1st March – Shrove/Pancake Tuesday, Mardi Gras
2nd March – Ash Wednesday
8th March – International Women's Day
12th March – Daylight Savings Time, National Girl Scout Day
14th March – National Pi Day
17th March – St Patrick's Day
20th March – First Day of Spring
25th March – International Waffle Day
27th March – Mother's Day
🌱 April
April showers bring May flowers but also their own set of fun holidays. Some important dates in April include April Fool's Day, Easter, and Earth Day. Each of these holidays brings plenty of opportunities to celebrate lighthearted and fun family times. With the weather getting better, there are even more days to spend outside and explore local stores. For non-outdoor people, April is still a great time to virtually browse your favorite shop.
Key April Dates
1st April – April Fool's Day
3rd April – Beginning of Ramadan
10th April – National Siblings Day
11th April – National Pet Day
17th April – Easter Sunday
22nd April – Earth Day
🌱 May
As the schools come to a close and everyone experiences the peak of spring, why not celebrate with some sales? There are plenty of moments to celebrate with a BBQ with loved ones by celebrating Eid, Memorial Day, and Mother's Day. Think of the sun, delicious food, and unique presents for those your love and want to thank. Why not combine some of the holidays and maybe buy a coke for your teacher on 8th May and then celebrate them on 9th May?
Key May Dates
1st May – End of Ramadan/Eid
4th May – Star Wars Day
5th May – Cinco de Mayo
8th May – National Have a Coke Day
9th May – National Teach Appreciation Day
13th May – World Cocktail Day
14th May – Mother's Day
17th May – World Baking Day
20th May – World Bee Day
29th May – Memorial Day
☀️ June
Time to enjoy the sunshine and flowers! June has the longest day of the year, known as the summer solstice, which means you and your loved one have more time to browse your favorite stores while spending time together. You could meet them again a few days later and celebrate Summersgiving – Thanksgiving while it's warm.
Key June Dates
1st – 30th June – Pride Month
3rd June – National Egg Day
7th June – National Chocolate Ice Cream Day
14th June – International Bath Day
18th June – Father's Day
19th June – Juneteeth
21st June – Summer Solstice
24th June – Summersgiving
25th June – Midsummer's Day
27th June – National Sunglasses Day
☀️ July
And now, summer officially begins. With the increase in temperatures, more and more people are excited to walk around the block and stop by the local lemonade or ice cream stand. As an online retailer – don't fret. Many individuals are still inclined to order their favorites online and even try something new. Many businesses use the summer months to have limited edition summer-themed items that, once they're out of stock, they're completely gone. July, in particular, starts off strong with Independence Day, followed by a weekly food-themed celebration.
Key July Dates
4th July – United States Independence Day
7th July – World Chocolate Day
9th July – National Sugar Cookie Day
11th July – National Mojito Day
17th July – National Ice Cream Day
24th July – National Parent's Day
25th July – National Wine and Cheese Day
30th July – International Day of Friendship
31st July – National Avocado Day
No commitment or hard credit checks, apply today!
☀️ August
We're still in the middle of the summer months, with the sunshine theme going strong. It's also the perfect month to celebrate special people in your life. Don't forget your pets as well since they've cheered you up no matter what day it is.
Key August Dates
1st August – National Girlfriend's Day
3rd August – National Watermelon Day
5th August – International Beer Day
8th August – International Cat Day
9th August – Book Lovers Day
19th August – National Potato Day
26th August – National Dog Day
30th August – National Beach Day
🍂 September
Cue the fall leaves gently floating to the ground and the crunch of boots on them. This month is dedicated to all things fall. There are some dates in September to keep in mind, like back to school and Labor Day, to plan sales around it.
Key September Dates
1st September – Beginning of Fall
5th September – Back to School
5th September – Labor Day
16th September – World Guacamole Day
20th September – National Pepperoni Pizza Day
21st September – National New York Day
25th September – National Daughter's Day
27th September – National Chocolate Milk Day
🍂 October
The entire month of October is usually dedicated to the spooky season, with the finale on Halloween. There are usually month-long sales dedicated to décor, food, and clothing to prepare for the end-of-the-month celebrations.
Key October Dates
1st October – International Coffee Day
1st – 31st October – Economic Education, Breast Cancer Awareness Month
7th October – World Smile Day
14th October – National Dessert Day
31st October – Halloween
🍂 November
With Thanksgiving and the holiday season coming up, November is buyers' go-to month to stock up on presents for themselves or others. Key shopping dates to keep in mind are Black Friday and Cyber Monday, as most businesses have mega sales to help people with the gift list.
Key November Dates
1st November – World Vegan Day
1st – 30th November – Movember/No Shave November, Men's Health Awareness Month
8th November – National STEM Day
11th November – Veterans Day
25th November – Black Friday
26th November – National Cake Day
18th November – Cyber Monday
❄️ December
Here come the holidays. Some of the important dates in December include Christmas and New Year's, which are usually spent with loved ones. However, the month of December is still a great time to shop for presents or your holiday outfits – probably online since it's a little cold. We specifically focus on 17th December as it's the last weekend before Christmas.
Key December Dates
1st December – National Pie Day
10th December – Nobel Prize Day
17th December – Panic Day
21st December – Winter Solstice
23rd December – Festivus
25th December – Christmas Day
26th December – Boxing Day
31st December – New Year's Eve
Each month has plenty of opportunities to find presents for yourself or others. As a business owner, it's great to remember major holidays and plan sales and stocks around them. Don't forget to bookmark this page to come back in the future.
If you need working capital to get your e-commerce store up and running, reach out to us at PIRS Capital. We'll provide you with the funds needed to build your inventory and launch your online storefront.
Ready to take control of your finance?
The Retail Marketing Calendar 2022 (Infographic)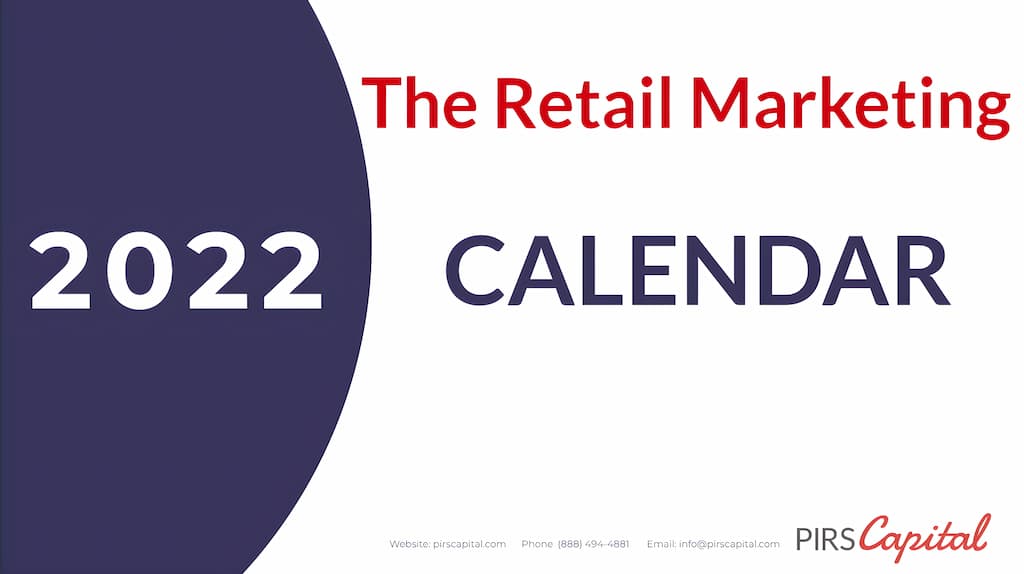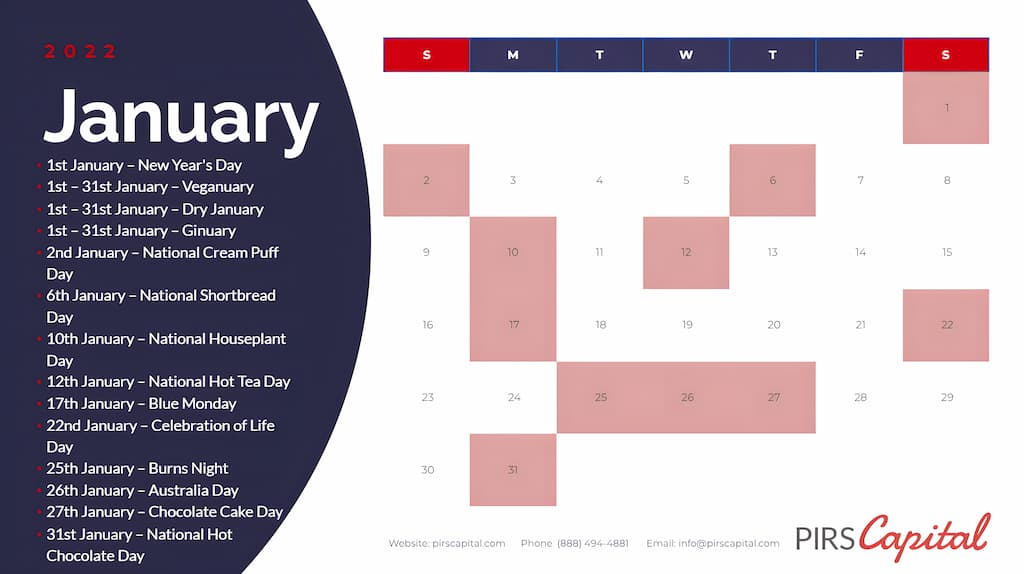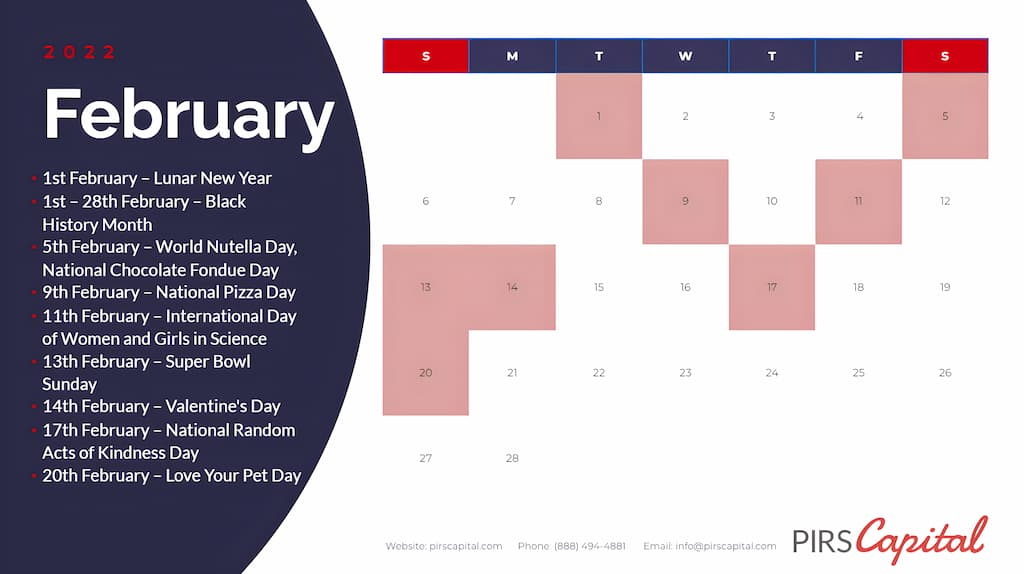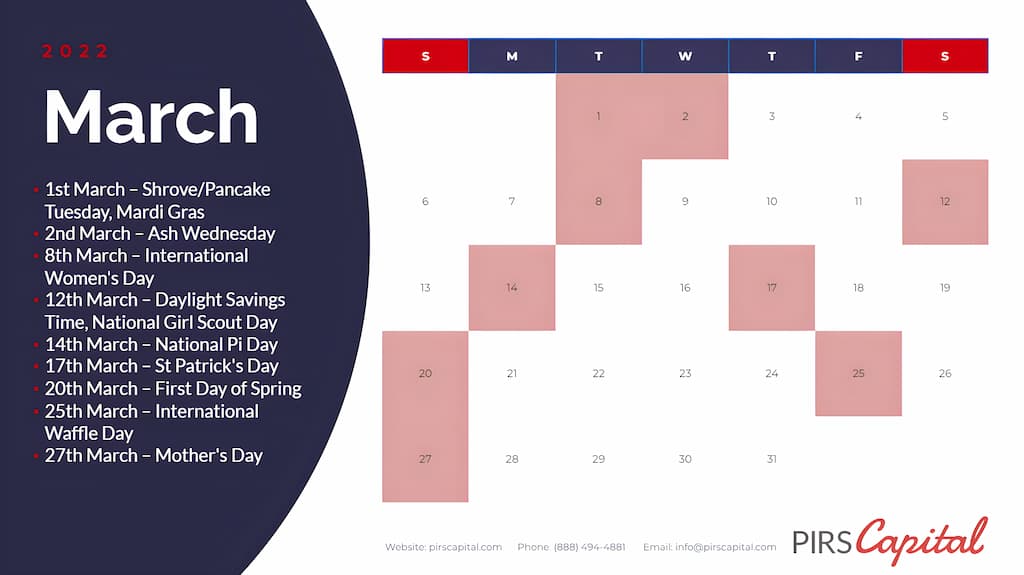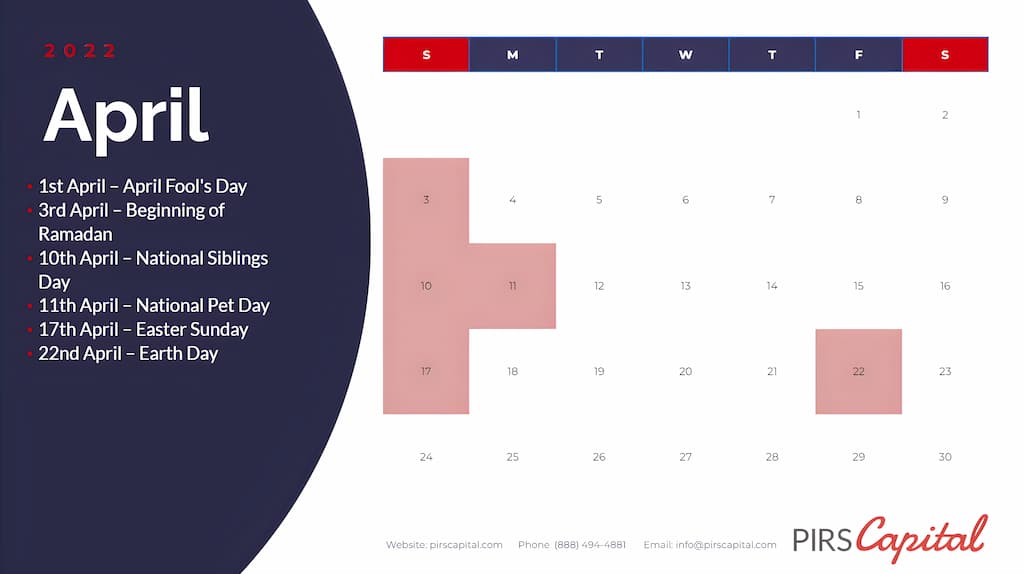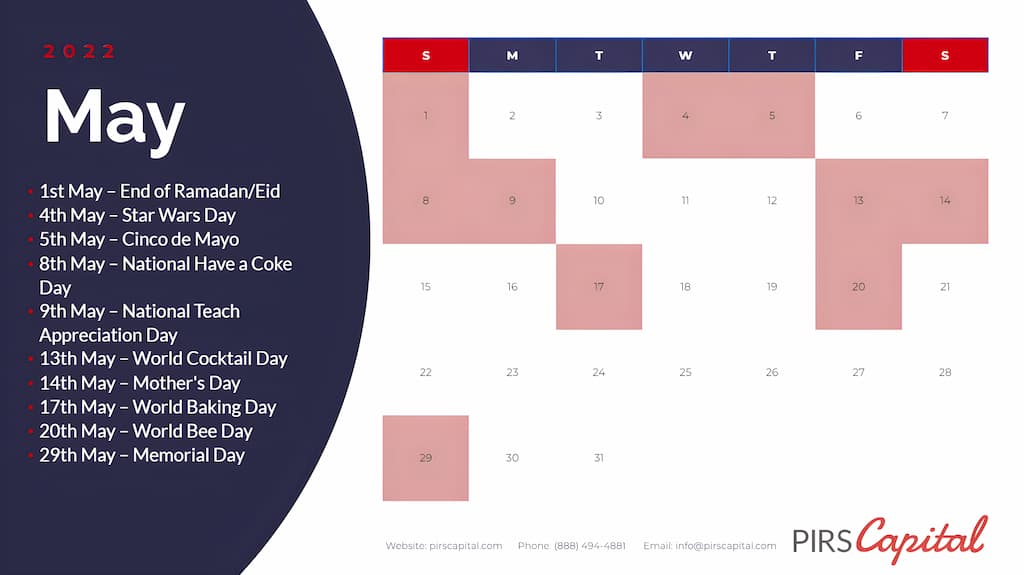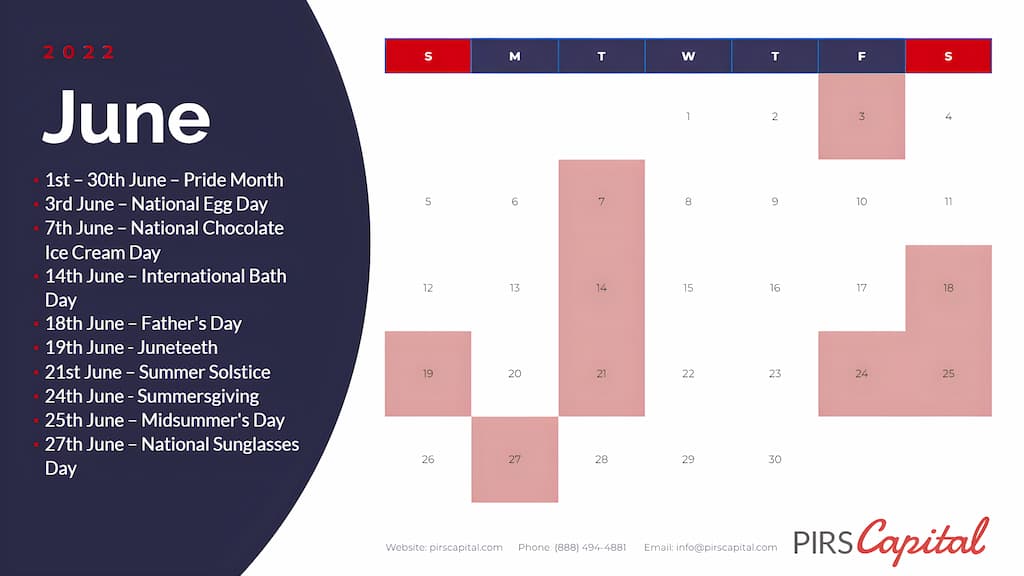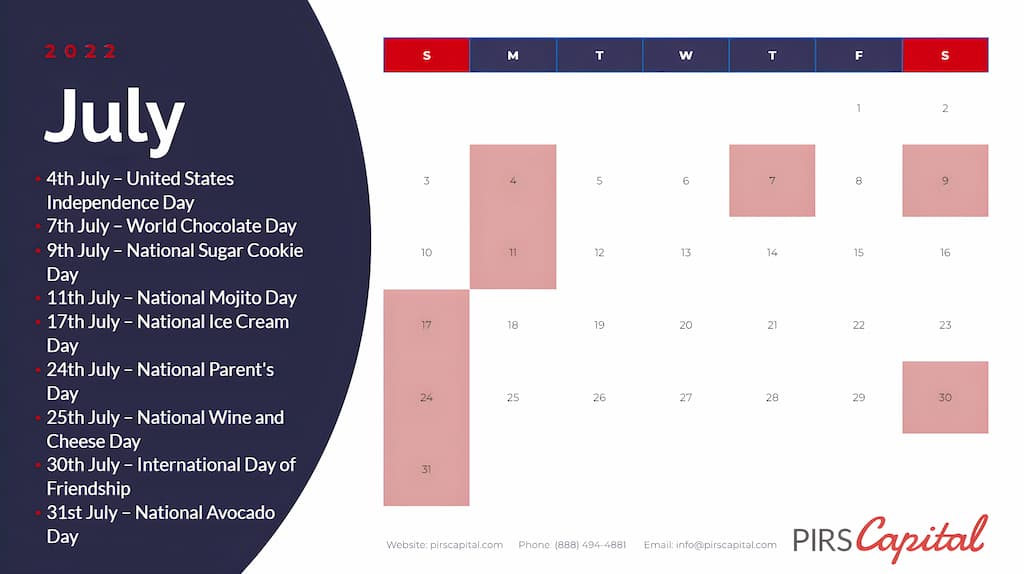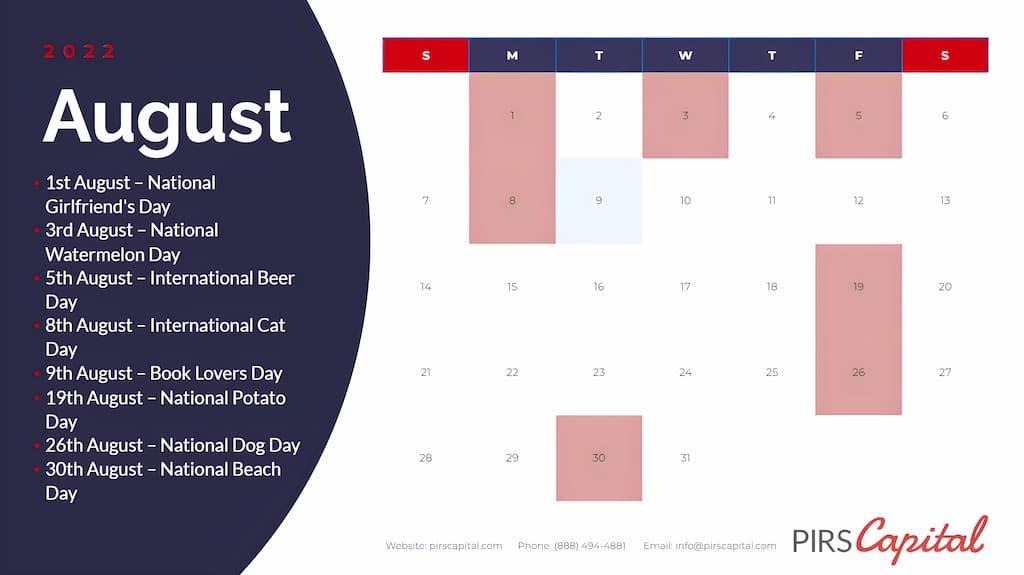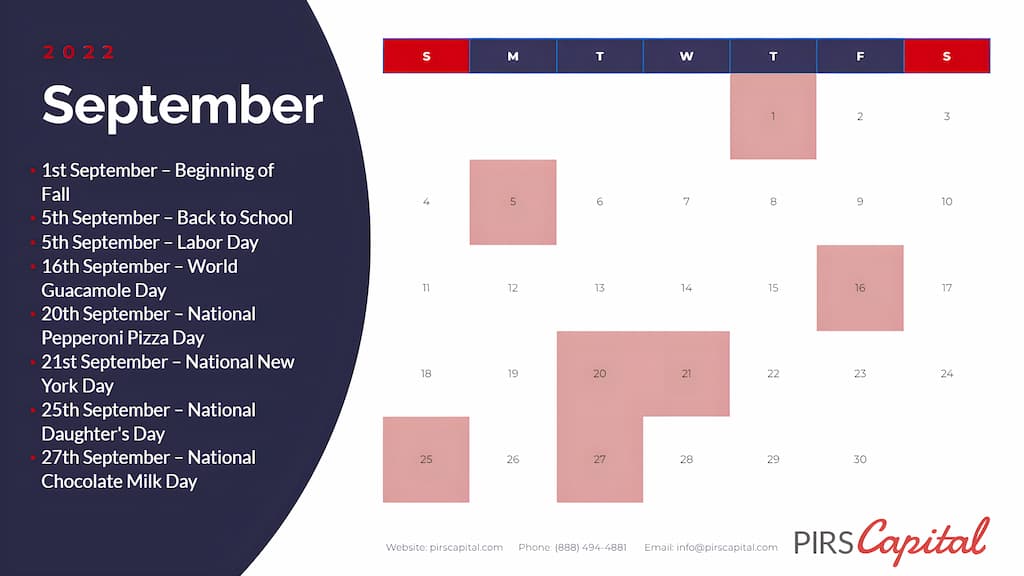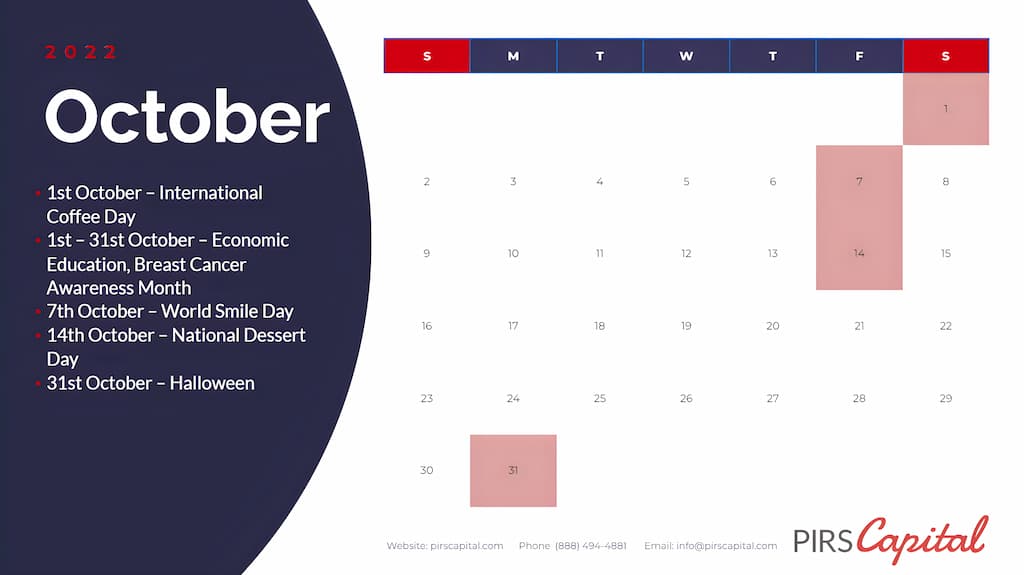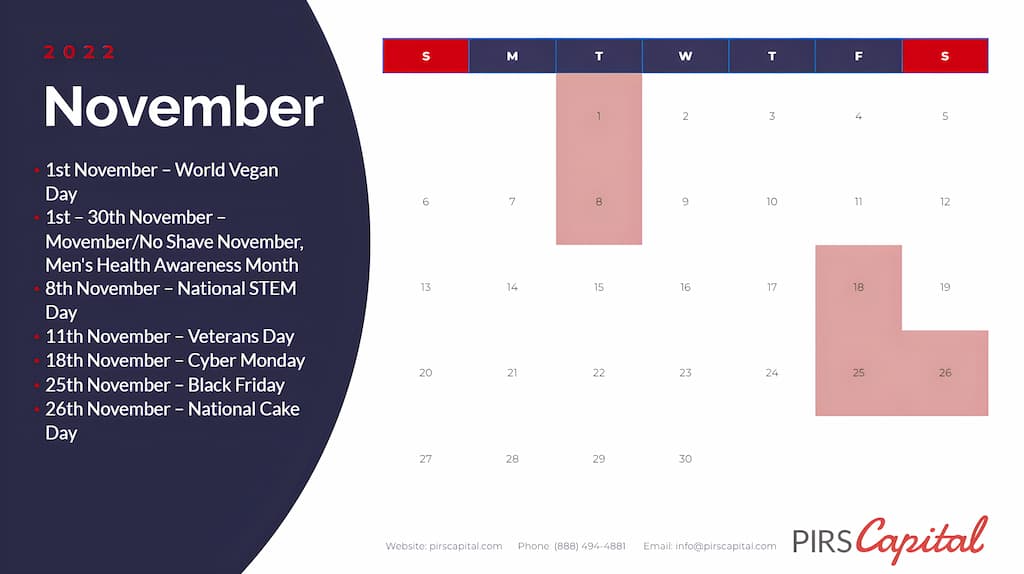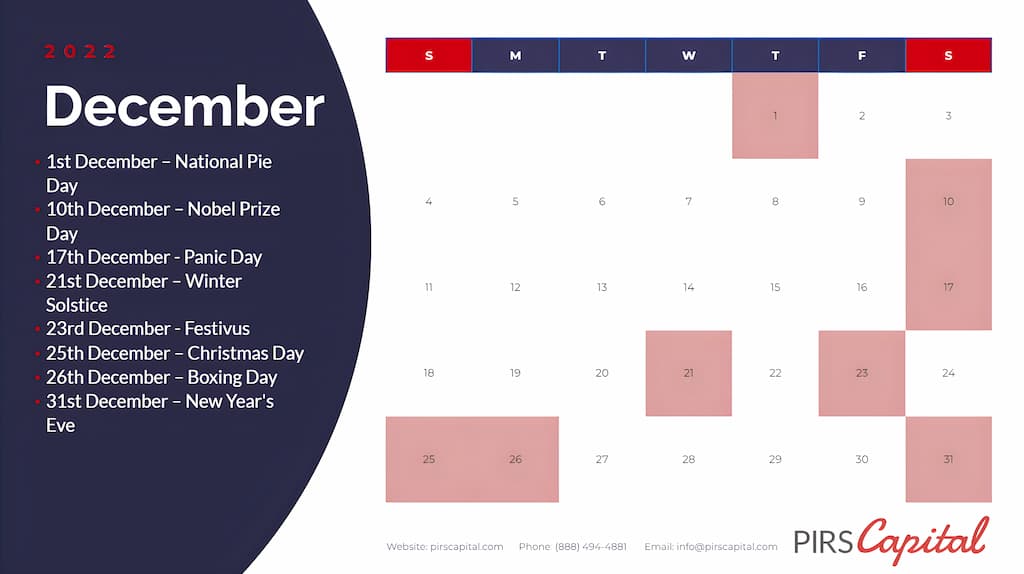 Grab Your Free Printable PDF Version (2022)
The Retail Marketing Calendar 2022 in Hight Resolution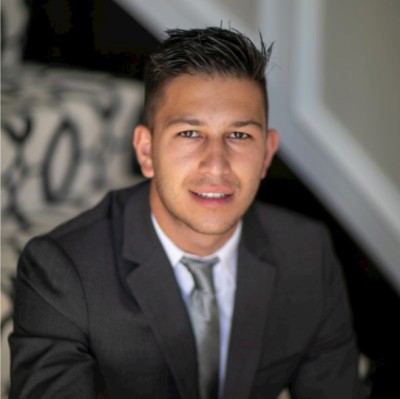 Written by: Mitchell L.
I work with companies that sell products on platforms such as Amazon, Shopify, Walmart, Ebay, Etsy, etc. I understand that every business is unique and thats why I form genuine relationships with owners so I can help them reach their goals and find success through our working capital solutions.